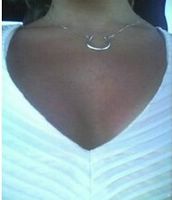 If this is eye level, I'm Helen Keller. Wah.

Some of you might wonder; "Why does Jenni have a picture of her ta-tas on her blog?" Others may say "It's about damn time Jenni has a picture of her ta-tas on her blog. In all honesty, the reason for the photo is to ask this question: Why do men feel somehow obligated to stare at your chest when you speak to them?
All day long I had to dodge blatant glances at my chest. That's right, I said blatant. Guys, it's obvious and no, the cough as you look down does NOT mask the fact that you're trying to cop a glance at our boobs, nice try.
And it wouldn't be so bad if I weren't working. It's a little unsettling when someone you see on a regular basis is staring directly at your nae naes. Talk about awkward. Maybe it's the fact that we're just getting out of "turtle neck" season and it's like the baseball opener, you just have to see it. Or maybe it's just that I somehow surround myself with raging perverts on a daily basis. Nonetheless, it's not very pleasant. I would rather have them say "Hey Jen, nice tits," than have them dance around the subject like a freaky little circus clown. At least then it would be a little less awkward.